Creamy Spicy Buffalo Chicken Macaroni and Cheese topped with blue cheese crumbles! A super cheesy and spicy dish the whole family will love.
My two favorite comfort foods have collided. Spicy buffalo wings and mac and cheese. Does it get any better than this?
Cheesy, rich and loaded with flavor. Made with shredded chicken, a creamy cheese sauce, penne pasta and of course buffalo sauce. A quick stove top mac and cheese that can be made in less than 30 minutes.
I love spicy foods. For me the spicier the better. That's why buffalo sauce is one of my favorite condiments. I love it in wraps, salads or tossed with my favorite wings.
This Buffalo Chicken Macaroni and Cheese is the ultimate comfort food. Perfect for Sunday's festivities….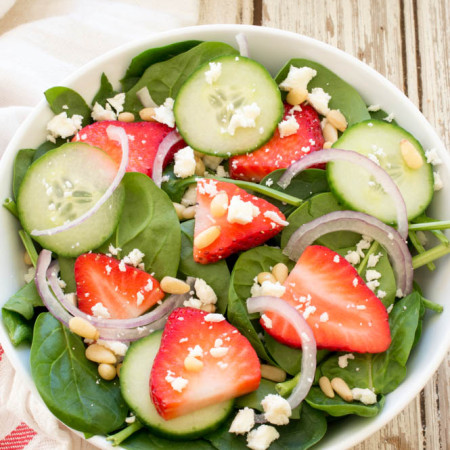 Fresh & Colorful Strawberry Spinach Salad topped with a Creamy Poppyseed Dressing. Loaded with fresh feta cheese, red onions and pinenuts. I've been on a serious salad kick lately. I can't get enough of them. This light and fresh Strawberry Spinach Salad is by far one of my favorites. Loaded with fresh spinach, strawberries, cucumber, red…