Roasted Garlic Potatoes Drizzled With A Creamy Horseradish Aioli. Perfect side dish to complement any meal!
Roasting vegetables is the best way to create a quick and easy side dish. These Roasted Garlic Potatoes are very easy to make and only require 4 simple ingredients, all of which you probably have on hand.
You can't go wrong with crunchy, tender, oven roasted potatoes. Tender on the inside with a nice crisp crunch on the outside.
I'm not a fan of change. However thinking of recipe ideas for Thanksgiving I wanted something different you don't usually see served during thanksgiving. Mashed potatoes are a staple for any thanksgiving meal. I changed them up by using small red potatoes that I quartered and roasted. To give the potatoes even more flavor I served them with a drizzle of spicy horseradish aioli.
These roasted potatoes are tossed in olive oil and garlic. When they come out of the oven chopped parsley is sprinkled on top. They are drizzled with a creamy 3 ingredient horseradish aioli.
This is a super easy way to prepare potatoes. Perfect as a side dish for Roast Turkey.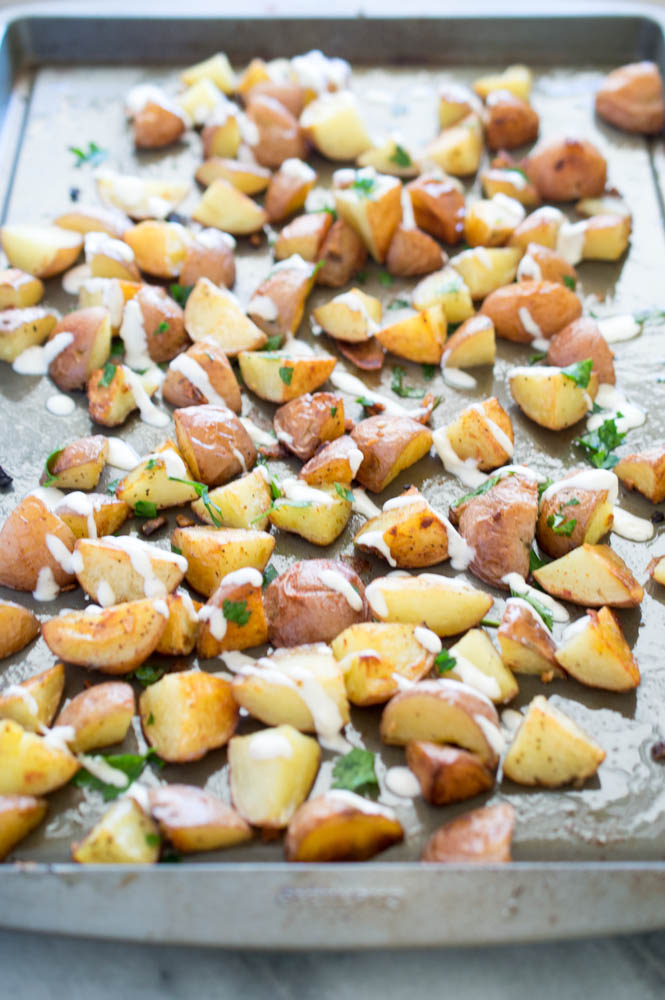 To make these Roasted Potatoes simply toss the potatoes, olive oil and garlic together and layer onto a baking sheet. Bake in a 400 degree oven for 30 minutes. Take out of the oven and sprinkle with chopped parsley. Done! 
One of the secrets to this recipe is to cook the potatoes at a high temperature. This ensures the crunchy golden brown exterior.
This method for roasting works for any type of potato although red potatoes are my favorite….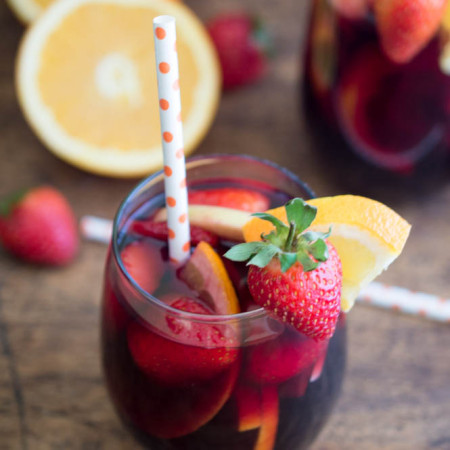 Simply and Fruity Red Wine Sangria. Made with fresh fruit, red wine, brandy and pomegranate juice. Perfect Fall or Winter cocktail. This is one of the BEST sangria recipes you will ever make. It's fruity, not too sweet and loaded with fruits and citrus. Sangria is one of my favorite drinks to make for entertaining. It's easy…